Jacqui Edgecombe (formerly Curiel)
Jacqui was born into a musical family with a singing dad and a piano playing mum.  She began playing cello at the age of nine after a year of trying out the violin.  Her youth music experience included tours of Europe with the Silver Strings Ensemble and the Australian Youth Orchestra.
Soon after gaining her Bachelor of Music Degree from the Elder Conservatorium, Jacqui won a full-time position in the Adelaide Symphony Orchestra  During her tenure with the orchestra she also performed with the Correa String Quartet, the ACME New Music Company and the Adelaide Chamber Orchestra, of which she was Principal cellist.
On moving to Sydney in 1997 Jacqui spent time as a cellist with the Sydney Symphony Orchestra before joining forces with husband Brenton to form String Fever.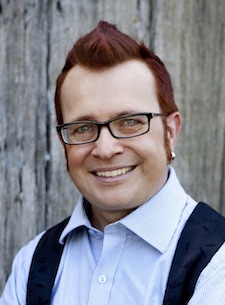 Brenton Edgecombe
Brenton began learning violin at the age of nine and attained his Licentiate in Music diploma while studying with Bogdan Kazimierczak.  He also began teaching himself pop piano at the age of nine and would practise Mozart while his parents were home and Elton John when they were out!
Brenton had a wide range of experience while freelancing in Adelaide.  He performed with groups including the Adelaide Symphony Orchestra, Graham Abbott's Ensemble Fleurieu, New Holland Baroque, Sinfonia Aurora, and orchestras for professional productions of West Side Story and South Pacific.  He also fulfilled a short contract with the West Australian Symphony Orchestra.
On moving to Sydney with Jacqui in 1997, Brenton worked with the Sydney Opera House Orchestra and Phil Hartl's session strings in between piano-bar gigs at some of Sydney's grottiest venues!  Since 1998 he has travelled the world as one half of String Fever.